Is the PowerColor Radeon RX 6400 worth buying? It is a budget-friendly graphics card designed for those with low-profile PCs. The new AMD Radeon RX 6400 graphics cards are excellent for 1080p gaming. Since it does not require additional power, it is perfect for beginning gamers. You may easily install these cards on aging computers or workplace PCs to play games because they don't require external power. Experience the severe gaming and ultra-high frame rates with the PowerColor AMD Radeon RX 6000 Series graphics cards.
The low-profile features of the AMD Radeon RX 6400 graphics cards make them perfect for sleeper builds and compact form factor setups. AMD also offers PowerColor Radeon RX 6400 graphics cards for the desktop that supports 1080p gaming along with the new laptop CPUs and GPUs. Microsoft Windows 11 and Microsoft DirectX 12 Ultimate are also supported. In addition, the AMD FidelityFX Super Resolution (FSR) upscaling technology and other advanced features promise high-refresh-rate gaming experiences.
A brand-new Radeon RX 6400 utilizes TSMC's state-of-the-art manufacturing process. It is a low-powered GPU that doesn't require external power. It consumes less than 75 watts and receives all of its power from the PCI Express slot. Through superior graphics, fantastic performance, and optimized security features, it provides the ultimate gaming experience.
The Radeon RX 6400 XT comes with 12 Compute units enabled, has 4GB DDR6 memory and a 64-bit memory interface. In addition, it has a 2039 MHz game clock speed that may be increased to 2321 MHz. It has a typical board power of 53W and an infinity cache of 16MB. Additionally, it includes 48 Texture Units and 768 Stream Processors. There are certain drawbacks because this graphics card is inexpensive. The AMD Radeon RX 6400 only has 4 PC lanes, so unless you have a Gen4 motherboard and CPU, your PCIe bandwidth will be reduced by 50%. In addition, it promises up to 35% faster gaming performance in 1080p resolution video games with high settings compared to the competitors.
The PowerColor Radeon RX 6400 graphics card is nice-looking and has a basic design. The card has white highlights on a black background. To keep the thermals under control, there is only one fan. The card's core clock speed is 1923 MHz, which may increase to 2321 MHz. Only one HDMI 2.1 port and one DisplayPort 1.4 port are available for communication. This graphics card has no RGB lighting or backplate because it is cheap. These are a few of the top AMD Radeon RX 6400 graphics cards on the market. It doesn't need a power cable.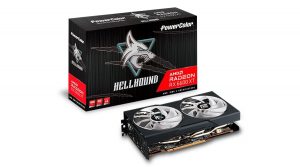 Mostech Computers is a famous store to shop authentic computer accessories, graphic cards, CPU coolers, Memory (RAM), Motherboards, processors and much more to renovate and make a brand-new PC. If you are looking for the best quality Powercolor Radeon RX 6400 4GB ddr6, you have got to the right place. Yes, they have an excellent collection of PowerColor AMD Radeon RX 6000 Series graphics cards for you. You will find their products, and customer service to be awe-inspiring and it is their guarantee.