Everyone wants their laptop to be faster and more powerful.  With a more powerful CPU, you'll get a higher-performance machine that runs faster and smoother. With that in mind, the Ryzen 4500U is the perfect middle ground for esports gaming & video editing on the go!
Are you interested in an esports (electronic sports) gaming laptop on the go? A laptop with AMD Ryzen 5 4500 processor ensures you transform any online electronic sports game into a spectator sport. A new generation of laptop processors can deliver adequate performance in esports titles without breaking the bank. It originated from an unlikely source that was never even remotely competitive in the gaming laptop CPU market.
Do you need to keep an eye on procuring the AMD Ryzen 5 4500 processor? Selecting this piece is simply good. No need to waste your time searching for the best one. AMD Ryzen 5 4500 processor comes with an endless list of benchmarks & techniques that'll make your game viewing experience truly amazing. You could run League of Legends, Dota 2, Rocket League, Overwatch, PUBG, Fortnite, Apex Legends, and Overwatch at a satisfactory speed.
AMD Ryzen 5 4500 processors is a good investment as it supports the all-new generation of laptops! Though the improvements in graphical performance won't be particularly impressive because you'll have passed the point of diminishing returns, you won't regret it. The reason why investing in Ryzen 4500U is that it's the cheapest of the bunch while still offering insane value for the money. If you have the bigger budget, then, by all means — go for an AMD Ryzen 4600U, 4700U, or 4800U!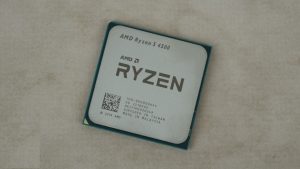 These days, that's especially true as their fourth generation of mobile CPUs has heavily impacted the status quo. Most of them are led by the budget-oriented AMD Ryzen 4500U. So what's all the commotion online? These processors punch way above their weight class to summarize as quickly as possible. They are providing incredible performance for a little portion of what Intel typically charges. It's also the first series of CPUs designed on AMD's 7nm manufacturing node that was also launched in the desktop-grade with six cores.
It isn't easy to judge CPUs like the Ryzen 5 4500 based simply on price and specifications. Despite having an older architecture and a little L3 cache, the Ryzen 5 4500 performs noticeably better than rival chips like the Ryzen 3 3100 and the Core i3-10105.  In most of the productivity and content creation tests, the AMD Ryzen 5 4500 could leverage its extra cores to hold an edge over the Ryzen 3 3100. In the majority of these tests, the Core i3-10105 came up short. If you can afford it, the Ryzen 5 5500 at ₹12,400.00 is a much better option than the AMD Ryzen 5 4500. If the ₹2000.00 difference is a deal-breaker, you can settle for the Ryzen 5 4500 at ₹12,400.00 or save even more with the Ryzen 3 3100. You may not have any issues finding the AMD Ryzen 5 4500 in stock at times.
If you want to know more about CPUs like the AMD Ryzen 5 4500, visit https://mostechcomputers.in/ today! They are the leading online retailers selling computer and tech-related items and consistently provide great deals on many computer hardware components. Call them today to get your AMD's Ryzen 4500U at the best price.